Archive for the 'Intel Atom Processor' Category
Barcelona, ?? Spain, February 28, 2012 – Visa Inc. and Intel Corporation announced a strategic agreement to develop solutions for business transactions through mobile devices adapted to consumers in developed and emerging countries. During the press conference at Mobile World Congress in Barcelona, ??the company unveiled plans to collaborate to ensure consumers a safe experience when making transactions on smartphones and tablets based on Intel Atom.
"Visa's agreement with Intel prepares the way for financial institutions worldwide to offer its account holders and financial services mobile payments using mobile devices and innovative technologies designed by Intel," said John Partridge, president of Visa Inc. during the press conference. "This is another example of how Visa is making mobile payments are widely available across devices and operating systems, and ensuring that mobile commerce applications are aligned with existing technology and safety standards established by the global payments industry, "he added.
The initial phase of the agreement between Visa and Intel include:
• Visa has certified reference device for smartphones supported by the processor Intel Atom Z2460 for use with Visa payWave mobile payment company that enables consumers to make fast and secure payments in retail locations showing their front of a mobile payment terminal. This will allow for differentiated implementation for OEMs deliver smart phones with NFC. Read the rest of this entry »
The concept netbook continues to make news every week in the world of gadgets. Now that the new Intel Atom microprocessors made ??above, are beginning to appear that integrate portable between its components. Over the weeks we will be adding many new features and anunciandos in that regard.
Lenovo launches new net book with bright color and simple design seeking attention of users who need a laptop handy and which are able to work comfortably anywhere. The new model is the Lenovo IdeaPad S110, announced in a video, whose specifications are a screen of 10.1 inches with a resolution of 720p, integrating the new processor Intel Atom N2600 Cedar Trail, along with 1 GB of RAM and a space 320 GB hard drive.
The operating system will be installed Windows 7 with instant start. It incorporates USB 3.0, WiFi and optional 3G , and a HD camcorder capable of stapling at 720p, also to choose. Its dimensions are very small, but has a keyboard large enough, with a width of only 16 mm and weighing 1.15 kilograms.
The market price of the new Lenovo Ideapad S110 will be close to $ 300, and its presentation to the public is rumored to be held in Las Vegas next week.
AMD introduced this year several new processors based on the design Bobcat. They are all Fusion processors, which means that the CPU and GPU are integrated on the same piece of silicon. The AMD Zacate E-350 uses 18 watts and was designed as an alternative for customers who require low voltage CPUs. With the advantage that AMD processors have higher performance in the graphic. AMD also produced a pair of lower power CPUs, designed to cope with the Intel Atom platform.
The AMD C-30 is a low-power CPU single core 1.2 GHz that performs decently in terms of graphics, but with very poor performance in relation to the CPU. To our knowledge no PC maker plans to launch notebooks in the U.S. with this processor.
The AMD C-50 is the response to Intel Atom. This is a 1-GHz dual-core with a TDP of around 9 Watts. In some reviews mentioned that the basic processing tasks are not as fast as the Intel Atom N550 , but in terms of graphics we are talking about a different story. The AMD C-50 is capable of playing 1080p HD video and is quite effective in terms of 3D graphics acceleration and DirectX 11, so it will be a decent option if you are looking for a netbook or playing video games if you want to connect the computer to an external high-resolution screen.
Managers Netbook News did some power consumption tests on netbooks Toshiba NB550D with AMD C-50, and Acer Aspire One Happy with Intel Atom N550. In the test with the processor idle and while using the computer to surf the Internet the AMD C-50 had a bit of an advantage. But when tested the system while reproducing video or game ran Atom processor used less energy in the end would directly influence the duration of the battery.
Overall it is good to see AMD finally has a low-priced CPU for netbooks, especially one that offers something you will not find in most Atom-based computers: an extra in the graphic. But if you thought the AMD C-50 would leave behind Atom processors in terms of battery life, power consumption, and overall performance would be more realistic to say that the AMD C-50 provides an experience similar to that obtained from a netbook with Atom processor and graphics NVIDIA ION.
Those familiar with the world of netbooks will know that processors Atom from Intel are best used in such portable devices. But the reality is that after many months were never developed enough to bridge the gap of 2.0GHz.
But now Manu tells us in Gizmodo finally confirmed at the Intel Developer Forum in China were presented this new range of processors. Which is trying to form the Z series (the first will be the Intel Atom Z550), which will reach 2GHz, L2 cache memory and will consume less than 3W.
The best thing about this presentation is that every time the power difference between netbooks and notebooks is shrinking more and more. Would not surprise me finish playing WoW in-little-time.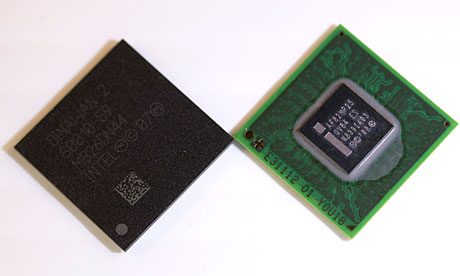 Known to all, netbooks or "mini-notebooks" carried in her womb the Intel Atom, a low-power chip but also poor performance, but it serves to fulfill the tasks for which the device is pointed. A platform is very similar to Intel recently launched for the area of ??the tablets, with the first Atom manufactured for use therein.
This is the Z670 model, codenamed Oak Trail, running at 1.5GHz and also has integrated graphics GMA 600, promising support for playback of high definition video (1080p) and also able to include an HDMI output.
The new Atom family member claims to be made specifically for tablets due to size reduction of nearly 60% over other old chips used to netbooks, even to dispense with the need for a fan to dissipate heat generated ideal for thin form of tablets.
According to Intel, we expect about 35 models of new devices using the Z670 in the remainder of 2011, with brands such as Lenovo and Fujitsu as part of those interested in this technology, which gives flexibility to walk various operating systems like Android, Windows and even Intel Meego, so pay attention especially to hybrid models of equipment in that sense.
This December is characterized by rumors that appear on new mobile devices are being developed. Several of these rumors have to do with the upcoming 2012 CES Consumer Electronics Show, as presented below. Samsung with Intel and mobile operator in the U.S., Sprint is preparing a smartphone powered by Android Ice Cream Sandwich, which supposedly will be presenting at CES in a little over a month. This confirms reports that Google is optimizing code to run Android on Intel chips , with special attention to the Atom version.
The Intel Developer Forum broke the news, it seems that Intel had personal prototype smartphones HTC Google software running Android 2.3 Gingerbread. The latest Intel Atom, codenamed Medfield, apparently also runs Ice Cream Sandwich . Although definitely the Intel Atom has a high performance data processing, usually comes in second or third place when compared to smart phones already on the market in the area of energy consumption. Samsung has reported that extended its agreement with Intel in order to include smartphones.
An Intel Android smartphone could definitely reach the mobile market early next year and may be presented at the CES trade fairs, or CMM. Intel has a long experience in the development of Atom for Netbook and other smaller portable devices size, it is not surprising that they reached the point where the processor or a variant thereof as may be included Medfield in smart phones that continually presents advances in hardware and software.
The new Intel Atom N570 dual core feature of 1.66 GHz processor speed, and include 1 MB of L2 cache. The new Atom will draw one or TDP power dissipation of only 8.5 watts and support DDR3 memory, as highlighted by Intel through its blog.
Asustek Computer, Samsung and Lenovo net-books sold with processor Atom N570 dual- core from next month, reinventing the netbook. In fact, some models of the manufacturers listed may be in the new edition of CeBIT is taking place in Hannover (Germany). As with any laptop, the battery life of netbooks depends on several factors including the size of your screen, and type of applications that are running. At this point, Intel stresses that the new Intel Atom N570 dual-core improve this aspect so much to reach between 8 and 12 hours of battery life in new equipment to be marketed, especially when it comes to viewing Web pages and check mail.
Not so with all applications that demand processing power, as may be the display of high definition graphics. The chip Intel Atom N570 was announced days ago with the announcement of the server from Sea Micro SM100000-64, which includes 256 processors Intel Atom N570, thinking to optimize energy consumption in certain environments. The new chip also includes 64-bit extensions and multitasking, thus each "core" is able to develop two processor threads simultaneously. Thus, from this moment, all current Intel chips aimed at servers, laptops and desktops, which are based on Sandy Bridge micro architecture and its predecessor West mere, are capable of running multiple threads per CPU core. There is great interest in the use of chips Intel Atom for other environments, beyond the current net book. However, sales of net books is that drink market share of these processor models. Currently, Intel is working on the model of chip Intel Atom oriented Tablet PCs, code-named Oak Trail.