Posts Tagged 'Dictionary Electronic'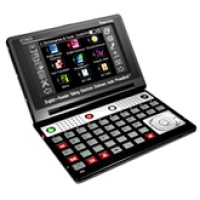 Tools for Spanish COES are a field of research, Department of Architecture and Technology Systems (DATSI) of the UPM. The main objective of this research is to formalize a set of Spanish grammar rules and apply those rules to test different types of correction in documents written in Spanish. To facilitate distribution, COES software is distributed as freely available since its inception in 1994. Despite having more than ten years old, the tool is updated and available on the site of the project.
The Spanish dictionary system comprises an electronic dictionary in text format, containing 53,000 words, a file of Spanish inflectional morphological classes, and a script that generates an expanded dictionary in binary format, containing all the inflected forms of verbs, nouns and adjectives in the dictionary of lemmas, along with ways unchanged, as adverbs, conjunctions, and so on.
This file set up a Spanish dictionary of terms whose number is constantly increasing, although you can not have new versions until they are checked for proper operation. It is currently available to the public when the new versions. The current distribution of COES includes a spell checker.
The dictionary in binary format can be integrated into a system of spelling in Spanish for Unix operating systems, using public domain tool ispell. From the electronic dictionary in binary format expanded espa ~ nol.hash) and Dictionary of slogans (Spain nol.words), you can generate the dictionary of expanded forms in text format (espa ~ nol.wl).
As Infoling to comment, "have expanded electronic dictionary in text format can be especially important for developers of Spanish linguistic technologies – both universities and companies – who need to integrate a dictionary of inflected forms for specific applications, especially considering that the project COES dictionaries are the only electronic dictionaries of Spanish public domain and freely available (unlicensed) ".
The complete set of dictionaries and other components are integrated by a flex file morphological suffixes of verbs, nouns and adjectives in Spanish, a list of words that appear in the dictionary of the Royal Spanish Academy of Language (twenty-first edition) , another list of words that are not in the dictionary of the Royal Spanish Academy of Language, but are commonly used in Spanish, a list of words, but not in the dictionary of the Royal Spanish Academy of Language commonly used in computer science.
Also, this set of dictionaries includes a list of words that, while appearing in the dictionary of the Royal Spanish Academy of Language, correspond to meanings that have no real use in modern Spanish, an expanded list of words, a script and a Makefile.
What do you have in mind if you heard the word dictionary? You may possibly imagine that dictionary is a window to the world in form of a thick book with lots of words in it. In fact, dictionary in this modern era is not only in form of a thick book. People in modern era have created dictionary in a simple slim electronic tool.
This is called electronic dictionary. The Franklin Online Store offers this electronic tool for many international languages, such as English, French, German, Arabic and others. If you plan to travel to Paris you can bring that French Dictionary Electronic with you. This tool will help you so much if you want to learn the words and conversation of that language. Some of those tools have audio program that you can hear the voice of pronunciation of the word. This will benefit you as a person who is trying to learn foreign language. Other programs are embedded in it such as calculator, timer and games.
This is a very good tool for use in office, school or campus. Electronic dictionary has other function, which is as translator device. It will help you translating words in fast and easy way. This electronic tool is also perfect for a gift to your friend, father, wife or beloved person.